December 9, 2022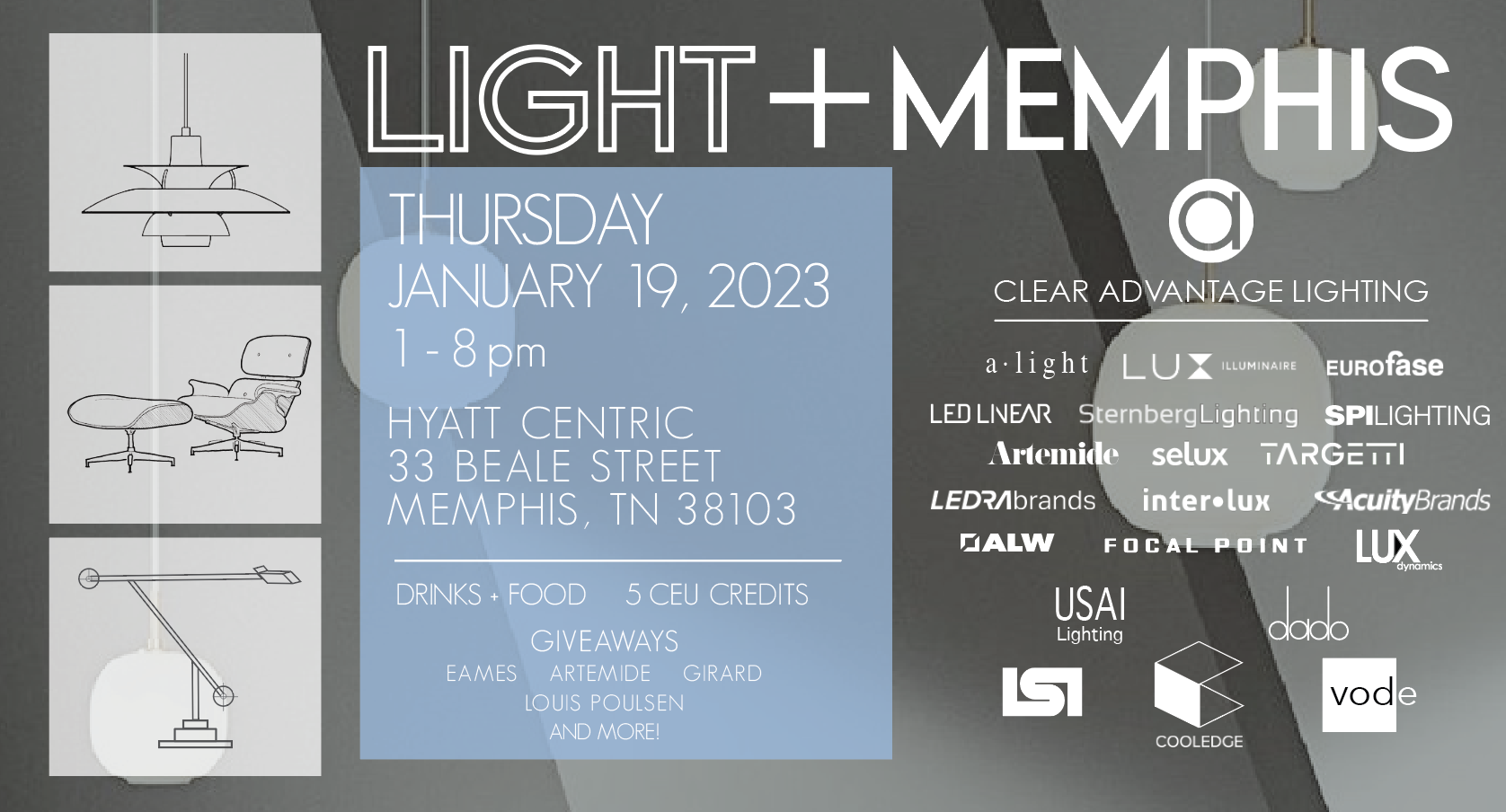 Clear Advantage Lighting is proud to host LIGHT + Memphis 2023! This is a conference style event in the Foundry Ballroom at Hyatt Centric Beale Street. Continuing education opportunities will be offered during the day and the main event occurs between 5:00 – 8:00pm. The tradeshow floor will be open all day for those who cannot attend the evening event.
The itinerary for the event is as follows:
1:00-2:00PM – CEU Class 1: Approaches to Acoustic Lighting: One Solution for 2 Design Problemswith Jason Rakip from Cooledge 1 LU
Learn about why acoustic lighting should be a key componenet of your design and how to choose the best solution.
2:30-3:30PM – CEU Class 2: Integration, Integration, Integration: The Three Most Important Aspects of Lighting, and how to Master Them with Mitch Johnson from Interlux 3 LU's
Learn how to incorporate innovatice tools for lighting into architectural design.
4:00-5:00PM – CEU Class 3: Lighting Signatures with Lighting Designer David Ghatan from CM Kling + Associates 1 LU
How special lighting elements integrated with the architecture become the identifiers for the building and community beacons and create iconic moments in cities.
David Ghatan is President of CM Kling & Associates, Washington D.C. Among the many acclaimed projects David has worked on, he also designed the lighting for our very own Renasant Convention Center and the DMC Mobility Center currently under construction." LINK TO BIO HERE
5:00-8:00PM – LIGHT + Memphis Show
20 Premier Architectural Manufacturers on display
Giveaways: 6:00 + 7:00 + 8:00 Grand Prize! *Must be in attendance to win*